The Whiskiest Place in the World - Glen Scotia Distillery
One of the only three remaining distilleries located in the world's former whisky capital, Gavin D Smith goes behind the scenes at Campbeltown's Glen Scotia Distillery.
"Call in the next time you're passing through, it would be good to catch up," says Iain McAlister, manager and master distiller of Glen Scotia Distillery in the historic Argyllshire fishing port of Campbeltown. There is just one drawback. You are never "passing through" Campbeltown on the way to anywhere, unless it's the Mull of Kintyre.
Campbeltown is the capital of Kintyre, sometimes jokingly referred to as the longest cul-de-sac in Scotland, and the town sits on a small sea loch, some 140 miles southwest of Glasgow.
It is now the smallest of the five officially designated malt whisky producing regions of Scotland, with just three working distilleries, but back in the early nineteenth century, Campbeltown was the hottest name in Scotch whisky, with a long tradition of illicit distillation on the remote Kintye peninsula feeding into licensed operations.
As was the case all over Scotland, the 1823 Excise Act, which made legal distillation a more financially rewarding prospect stimulated the legitimate trade in Campbeltown, with no fewer than 24 new distilleries coming on the stream between the passing of the Act and 1835.
Scotia
One of these ventures was named Scotia, established on Campbeltown's High Street in 1832, four years after its modern rival Springbank was founded on the town's Longrow. Scotia was the creation of the town's Dean of Guild James Stewart and Provost John Galbraith, whose families operated it until 1891.
In that year, the business was bought by Duncan MacCallum - who had established Glen Nevis Distillery during 1877 - and incorporated as Stewart, Galbraith and Company Limited. Around this time, Scotia was equipped with three stills, and boasted an annual capacity of 85,000 gallons, or 386,000 litres. In 1919 Scotia was one of six Campbeltown distilleries, including Glen Nevis, which formed West Highland Malt Distilleries with a view to sharing costs and prevent potential closures. However, in 1923, West Highland entered voluntary administration, with five of the six founding distilleries closing forever. Only the intervention of Duncan MacCallum, who bought back Scotia, saved it from the same fate.
The distillery fell silent in 1928, but reopened two years later. Sadly, however, MacCallum was discovered drowned in Crosshill Loch that year, aged 83. It is widely believed he committed suicide after being cheated out of his life savings, and his ghost is said to haunt Glen Scotia Distillery to this day.
The decimation of Campbeltown's distilling industry, that saw more than 20 distilleries reduced to just two by 1935, may partly be blamed by the imposition of Prohibition in the USA during 1920, as Campbeltown was heavily reliant on the US market for sales.
Shortly before Prohibition was repealed, Scotia fell silent in March 1930, but despite the adversity facing Campebltown's distillers, Scotia was purchased in 1933 by Bloch Brothers, which subsequently added "Glen" to the name, retaining ownership of the distillery until 1954. In that year, Bloch's distilling assets were acquired by the Canadian company Hiram Walker Ltd, which sold Glen Scotia on to Glasgow-based blender A. Gillies & Co. a year later.
Gillies subsequently became part of Amalgamated Distilled Products Ltd, which in turn was purchased by Gibson International during 1986, and despite a degree of investment in the fabric of Glen Scotia in 1979, the distillery was silent from 1984 until 1989.
The rollercoaster of acquisitions continued, with Gibson's whisky interests being purchased by Glen Catrine Bonded Warehouse Ltd in 1994. Glen Catrine also owned Loch Lomond and Littlemill Distilleries, and began distilling small amounts of whisky at Glen Scotia in 1999, courtesy of an arrangement with Springbank staff, and a degree of much-needed investment followed.
The distillery was not done with changes of ownership, however, and in the spring on 2014 the Loch Lomond Group - belonging to Exponent Private Equity - purchased the Glen Catrine Bonded Warehouse business. Two years later, a new core range of single malts was launched, and a visitor centre and shop were subsequently developed, while capacity was increased by the addition of three new stainless-steel fermenters. Warehousing was also augmented and expanded.
Iain McAlister
Unquestionably, one of the smartest moves made by the Loch Lomond Group was to appoint Iain McAlister as assistant manager in 2008. A Campbeltwon native, McAlister says that "There was no previous family involvement in distilling, not of the legal kind, anyway. It would have been out on the hill in the past that the McAlisters were making whisky!
"I trained as an engineer and went out to New Zealand in the 1990s, but when my wife and I came back to start a family in Scotland, we came back to Campbeltown. I worked with Scottish Water, but I'd always had a passion for whisky and for local history, and I got the job as assistant distillery manager at Glen Scotia. I started in March 2008, working with manager Hector Gatt, but he was ready to retire and left at the end of May, when I was appointed manager. You probably wouldn't get that sort of chance now."
He explains that "I worked closely with John Peterson, master distillery for the Loch Lomond Group, looking at all aspects of distilling at Glen Scotia. We looked at the fundamentals, from milling through mashing, fermentation and distillation, changing various things, and in particular, opting for much longer fermentations.
"That nailed down the Glen Scotia Campbeltown style, making it more accessible, but keeping its complexity and robustness. Glen Scotia has a great flavour profile, with subtle oiliness and salinity. Once Loch Lomond Group took over, they invested in the distillery and moved everything up a gear. When I started, there was no marketing or sales activity for Glen Scotia."
Today, with the Loch Lomond Group in the hands of Hillhouse Capital Management, Glen Scotia is vigorously promoted, with principal markets including France, Germany, Sweden, Netherlands, Japan, Taiwan, USA and Australia, all of which have been seeing growth in recent years, while China is also fast becoming a significant market for the single malt. With Glen Scotia 25 Year Old being recognised as the "Best in Show" overall winner at this year's San Francisco World Spirits Competition, international demand will surely only grow.
One major area of investment during recent years has been in good wood, and McAlister notes that "We fill into first-fill and second-fill bourbon casks and some medium-char casks, along with a number of experimental ones, which may end up as single cask bottlings.
"We have a total of nine staff members, with five in production, and we will be making around 52,000 litres of spirit during 2021. When I started, it was only around 100,000 litres." Each year, one month of activity through the pair of short, squat stills is dedicated to making peated spirit, varying from 15-20ppm up to 54-55ppm.
Visiting Glen Scotia
Iain McAlister explains that "Creating a visitor centre was a big thing for us, and we tidied the distillery up a lot. That was badly needed. It was always dull, dingy and grubby, and now it's shining!" The beautifully presented distillery shop carries the full range of whiskies, including exclusive single cask bottlings and stylish gift items, and McAlister notes that "We go from a 'standard' tour up to a manager's tour, which I conduct. We are very flexible and try to leave a lasting impression on the people who make the effort to come here."

The Dunnage Tour is a particular favourite, and includes the chance to sample whisky direct from five casks in the warehouse. Some of the whiskies are up to 21 years old and may be bottled in single cask format from time to time.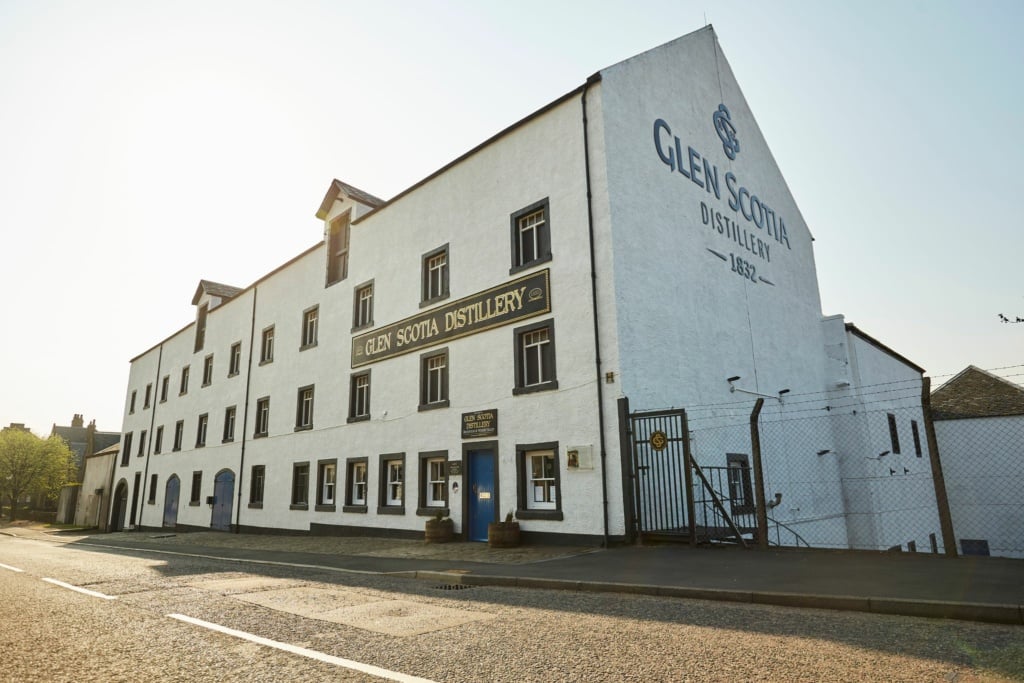 Whiskiest Place
Glen Scotia uses the strapline "Whisky made by history," and a recent venture has been an appeal for photographs of Campbeltown in days gone by. "We're looking for stuff on Campbeltown and its whisky heritage," says Iain McAlister, "and we'll hopefully stage a mini exhibition at some point. Our heritage is incredibly important. There's nowhere quite like Campbeltown. It's a small but powerful region even though it doesn't make a million litres of spirit a year in total."

McAlister was also behind the move to have Campbeltown recognised as "the whiskiest place in the world," and he reports that "It reached the statutes. It was officially recognised as the whiskiest place in the world by Parliament. A very good bit of publicity and a nod to all those who came and went and added so much to the town's whisky heritage. It attracted a lot of attention."
For many decades, when most of Glen Scotia's make was destined for the blending vats, the distillery and its whisky lived in the significant shadow of Springbank, the Campbeltwon single malt whisky. Now, however, much has been changed and while Glen Scotia has been notably proactive in marketing its range of whiskies, Springbank has never been known for "active promotion," preferring the "build it and they will come" approach. When asked the slightly mischievous question of whether Springbank can now be considered Campbeltown's "other" whisky, Iain McAlister chuckles and says that "It reminds me a bit of when I used to sit 'O' levels. Some students, like me, had to study really hard, and others breezed through. They just had it. Springbank is a natural! At Glen Scotia we've had to put in a great deal of effort to get where we are."
The original feature is from the Summer 2021 edition of Whiskeria, delivered to the door of W Club subscribers and also free with any Whisky Shop purchase in store or online. Click here to read the full Summer 2021 issue of Whiskeria online for free.