Macallan Distillery: Welcome to the Ground Breaking
Little did local barley farmer and school teacher Alexander Reid know, when he took out a licence for what was to become The Macallan distillery in 1824, that almost two centuries later the brand of whisky still made on that site would be celebrated as one of the world's greatest malts. Nor could he have envisaged that his modest two-still enterprise would have been transformed into what is arguably the most distinctive whisky distillery of them all.
When the new Macallan facility was unveiled earlier this year, it soon became clear that this was a game-changer for the way distilleries and their visitor centres were conceived and subsequently delivered.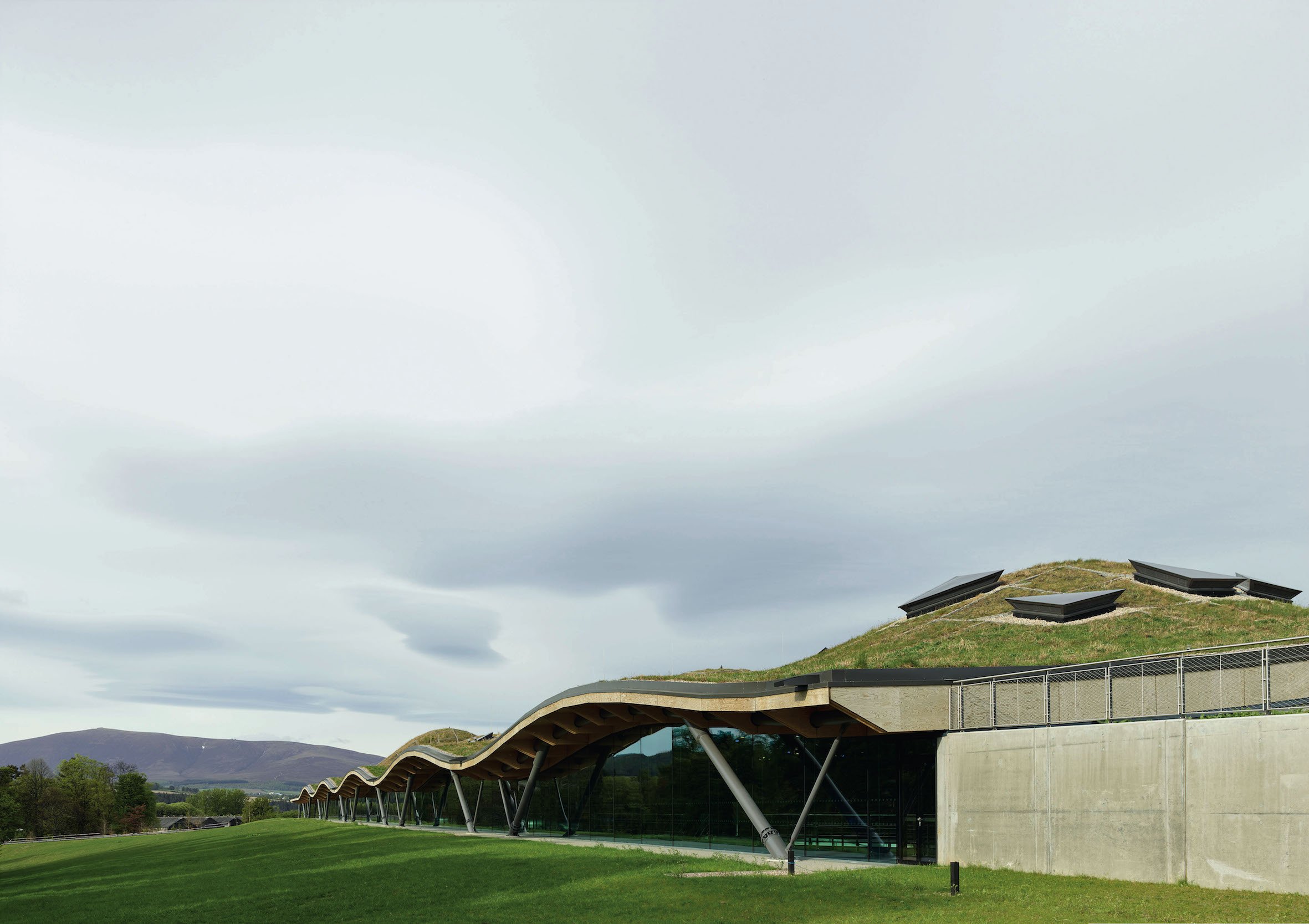 The Macallan's bold decision to break with tradition and create a piece of architecture that would have an intrinsic worth in its own right, and not just functionality, led to a collaboration with Rogers Stirk Harbour Partners, the team behind London's Millennium Dome and Heathrow's Terminal 5.
According to the architects, "Internally, a series of production cells are arranged in a linear format with an open-plan layout revealing all stages of the production process at once. These cells are reflected above the building in the form of a gently undulating timber roof. Grass-covered peaks rise and fall from The Macallan estate grounds, signalling to approaching visitors the activities housed beneath. Set into the naturally sloping contours of the site, the design makes direct references to ancient Scottish earthworks."
The distillery has been likened to "a high-tech Hobbit house"; while writing for www.forbes.com, Felipe Schrieberg declared that "The new Macallan 2.0 is a truly ultra-modern facility that would fit nicely in a Bond movie, cementing its status as the world's top luxury whisky brand."
Ian Curle, CEO of Macallan's owners Edrington, declares that "We're standing on the shoulders of giants. We're laying the foundations for the future. We wanted to respect this beautiful natural location and build something that would endure. The unsurpassed quality of The Macallan is in high demand and we face the future confidently with this new distillery. It's an authentic, abiding, ambitious investment that will match consumer expectations for generations to come. We expect this new Macallan enterprise to deliver significant benefits for the tourism industry, Scotch whisky exports, and the economy."
The Project
Creating Curle's 'enduring building' has been a massively complex project for all involved and cost Edrington some £140 million. Elgin-based Robertson Construction was charged with delivering the distillery, which began with the excavation of 500,000 of earth after ground was broken in December 2014.
Robertson's worked with 25 contractors, and up to 400 people representing 20 different trades were on site as the building took shape. 20,000 cubic metres of concrete was used in the construction, which involved the installation of what has been described as one of the most complex timber roof sections in the world. This comprised no fewer than 1,800 single beams and a total of 380,000 individual components.
The distillery has been designed not just with external environmental aesthetics in mind, but with 'green' credentials at its core. As a result, 95 per cent of its energy requirements will be supplied from renewable sources.
Of course, any distillery is only as good as the whisky-making equipment in it, and Macallan's famous 'curiously small stills' were replicated by the Rothes firm of Forsyth's, which faithfully copied the existing vessels down to every last lump and bump. A grand total of 12 wash and 24 spirit stills were created, along with 21 stainless steel washbacks and a vast mash tun with a capacity of 17 tonnes.
Previously, the 'old' Macallan distillery had operated two stillhouses, one fitted with a mash tun, 19 stainless steel washbacks, five wash and 10 spirit stills, while the second had its own mash tun, six wooden washbacks and three of stainless steel, plus two wash stills and four spirit stills.
Its replacement – which first produced spirit in December 2017 – gives the option to increase capacity from 11 million litres per annum to 15 million litres but is also much more visually appealing to visitors. Clearly, having a bespoke 'brand home' in which to showcase all things Macallan was an important factor in the creation of the new distillery, and the visitor experience has been developed with the same meticulous attention to detail as the structure itself.
Inside Macallan
On approach, the distillery appears relatively low-key, with its five-domed roof the most significant feature. The pathway seems to narrow as it approaches a modest doorway, funnelling visitors into what might well be a dark and claustrophobic space.
Once through the door, though, the sheer scale of the apparently cavernous building is truly surprising. It is a very clever sleight of hand. Much use has been made of polished concrete and there is quite a gritty, urban vibe. It is certainly not like any other Scotch whisky distillery you will have visited.
A dramatic floor to ceiling glass 'archive wall' holds the Macallan's priceless collection of bottlings, never previously displayed together, and visitors experience what has been termed 'an interactive immersive brand experience' based upon The Macallan's 'six pillars' of core brand values (see www.themacallan.com/inside/6-pillars), including a Lalique sculpture that represents the 'third pillar' or 'finest cut.'
The stars of the show remain, however, Macallan's unique copper pot stills, arranged in three interconnected circles. And, if the thought of all the whisky being created gives you a thirst, there is a stylish bar, boasting no fewer than 952 different expressions of The Macallan.
Great care has been taken to match the style of spirit produced in 'old' Macallan with that in the new distillery, and during the two years prior to the opening of the new facility a team led by Master Distiller Nick Savage worked to 'benchmark' that spirit by rigorous analysis, so that everyone is satisfied that no consumer will ever notice any difference when he opens a bottle of The Macallan at some future date.
If £140 million sounds like a lot to create a distillery, then it is worth bearing in mind that it is only part of a total expenditure of £500 million on the site over a 12-year period, so confidence in the future of The Macallan as one of the world's favourite single malts is clearly high.
New Drams
The official opening of the new distillery has been commemorated by the creation of The Macallan Genesis Limited Edition, which costs £495 per bottle, and is available only at the distillery and at The Macallan's own airport retail outlets in the Far East.
And, just in case anyone was likely to forget why The Macallan is feted as one of the great whisky brands, the company also recently announced the release of its oldest bottling to date. This is no less than 72 years old, and each of the 600 individually numbered Lalique decanters sells for the equivalent of US$60,000. More affordable expressions are, of course, available from The Whisky Shop!
The Macallan is synonymous with the use of sherry-seasoned casks for maturation, and remarkably, Macallan's owners Edrington are responsible for some 95 per cent of all sherry casks being imported to Scotland. Stuart MacPherson, Spanish Operations Manager & Master of Wood, explains that "All our casks are made in Spain to our specifications, which include toasting levels, timings and specification of timber. We use a number of cooperages in Jerez and our main 'seasoning' bodegas are González Byass and William & Humbert, although we do use some smaller family-owned bodegas."
He adds that "the casks are seasoned with an Oloroso sherry which, by definition, must be a minimum of two years old." Seasoning the new casks with sherry lasts for 18 months, and The Macallan uses both European oak (70 per cent) and American oak (30 per cent) casks. Stuart MacPherson notes that "The main differences are related to colour and flavour characteristics and this can be contributed to specific chemical compounds within the different species of trees. At Macallan, we only ever use our casks twice."